The History:
Few new artistic methods have generated as much curiosity, interest and excitement as the "Water-graph" technique (or Polacolor Transfer). Fuji Film makes a similar self developing film that is also used by Peter Balazsy to produce yet another variation in image transfer. (Peter Balazsy pioneered and developed the first-ever successful methods for the Fuji image-transfer process in 1992)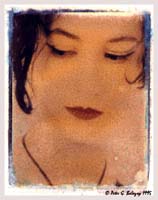 The subtle colors and fresco texturings you may see in certain renderings show how transfers are unlike any other photographic process.

Artists and photographers alike have now begun expressing themselves through this intriguing new medium.

The actual transfer concept was discovered quite by accident in the mid sixties when a Polaroid lab photographer placed a Polacolor negative face down on a counter top and later found a partial image was transferred to the surface of the counter. Experiments with the process were discouraged on an official research level but, over the years, experimenters have dabbled and developed interesting variations on the transfer process theme.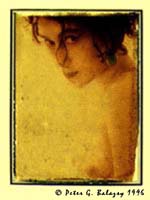 The process is capable of producing both fully rendered images with a beautiful softness, as well as partially rendered images reminiscent of ancient frescoes. Image reworking ranges from soft accentuation of color to bold combinations of photography and painting.
The Basic Process
In brief, image transfer is the process of peeling apart a self developing film packet and transferring the positive onto a non-photographic surface.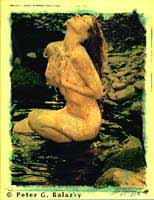 The artist can work "live" by shooting his subject with a Polaroid camera and then transfer the image on the spot or by shooting with 35mm, or similar standard photographic slides and copying the slide to Polaroid for transferring images at a more convenient time, thus allowing further variations in exposure and filtering, as well as choosing different receptor materials with infinite combinations producing completely unique "one of a kind" prints.
The Artistic Process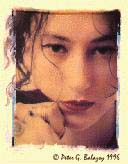 These "original" works of art are produced through many stages of creative and technically sophisticated steps.

Step 1.) The creative process of selecting subject matter and then composition and all the technical aspects of creating a quality photograph.

Step 2.) The image is projected to Polacolor film using many combinations of filters and exposures.

Step 3.) The developing process is interrupted prematurely at the creative whim or discretion of the artist to produce further image subtleties.

Step 4.) The receptor material must be selected and prepared. Typically the receptor sheet is a type of high grade water color or print making paper that may be prepared using water or some other additives such as wetting agents or fixers etc.

Step 5.) The Polacolor negative image is placed in contact with the receptor sheet (paper, silk, wood etc.) again introducing a broad range of techniques usually rolling with a cylinder or spoon etc.

Step 6.) Draws again on the artist's creativity. At this stage the image may lead the artist to add color of his own by painting in with inks, pencil, pastels or watercolors.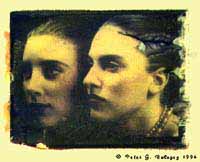 Again the artist may choose to peel or scratch the image surface adding additional texture.

Washing or rubbing certain areas of the image creates a special feel or look. Another step of optionally rubbing on gold leaf or laminating with various materials is sometimes employed.
The final result can be a somewhat unpredictable and delightful surprise.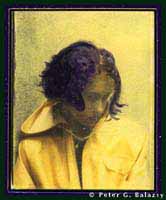 The particular variations established by each artist and the continuity of results obtained is an expression of the talent of the individual Photo-Artist.
All of the various stages and processes that lead to producing the final image will assure you that the "WaterGraph" you own is truly unique.
You may see another interpretation of the original subject image, but no two "WaterGraph" transfers could ever really be identical.

~~~~

Images &copy Peter G. Balazsy

---
~Studio located in Northern NJ ~
~ (973) 790-7960 ~